Solo Driving Range Software
Next Product
Previous Product
Description
Highlights
Instant Cash Infusion / Interest Free Loan
Reliable Chip Technology
Track / Cancel Lost Keys
Club accounts for yearly memberships
3 bucket sizes from keys and cash
Daily statistical and revenue reports
+ Big Time Profits in Real Time
The best way to keep people coming back to the driving range is through discounted Range Plans and Membership Programs. The easiest way to do this is with Range Servant Solo.
---
Solo Overview
Solo is the latest payment system for all Range Servant ball dispensers. We use the most advanced contact-less tag technology for trouble free and durable operation. Solo's multi-language administration software is both simple to use and rich in functionality offering total control over pricing and account information!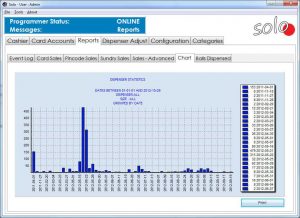 ---
Solo Plus & Solo PIN
Offers 3 unique bucket sizes to your customer. Can limit members to 2 or 3 buckets per day. Solo Plus is compatible with bill or credit card readers. With Solo Plus you have the added functionality of running dispenser data reports.
---
Contactless Solo Cards
Solo Tags are MiFare contactless cards that are used when dispensing balls. The Solo Tags are encrypted with a unique license and locked to your dispenser only! No mag strip to wear out or demagnetize.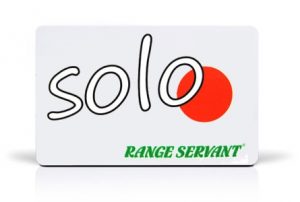 ---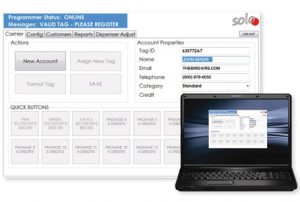 Solo Software
Solo Software is the graphical user interface used by cashiers for handling customer accounts, topping up Solo Tags and programming the Supervisor Tags. The Solo Software also generates an event log & sales reports.
---
Features & Benefits of Solo, Solo Plus, Solo PIN
In a Range Servant Golf Ball Dispenser, Solo can get you:
3 buckets sizes of any ball count in Ultima Golf Ball Dispensers
3 independent bucket sizes in RS and GL Models
We can separately count Token Buckets from Solo Buckets
3 Independent bucket sizes from a bill acceptor
Solo is available in two versions with features to suit your driving range's needs. Versions Solo and Solo PLUS are compatible and can be upgraded at any time.
| Solo Feature Chart | Version | Version | Version |
| --- | --- | --- | --- |
| | Solo | Solo PLUS | Solo PIN |
| Payment Systems | Credits | Cash | Cash/Buckets |
| Selection Sizes | One Size | S, M, L | S, M, L |
| Solo Tags reusable |   |   |   |
| Administration Software |   |   |   |
| Membership Management |   |   |   |
| Block and Replace Lost Cards |   |   |   |
| View and Print Event Log & Sales Data |   |   |   |
| 3 Different Discount Levels |   |   |   |
| Export Event Data to Spreadsheets |   |   |   |
| Multi-user Admin Interface |   | |   |
| Up to 8 Dispensers on Same System |   |   |   |
| Admin Software can be installed on any number of PCs |   |   |   |
| Free Software Upgrades |   | |   |
| Available in many languages |   |   |   |
| Retro fit in ANY ball dispenser |   |   | |
| Cards are specific to your facility |   |   |   |
| Expiry Date for Member Account | |   |   |
| Limit Cards by Number of Buckets per Day | |   |   |
| Download Dispenser Data | |   | |
| Bill Acceptor Compatible | |   |   |
| Credit Card Acceptor Compatible | |   |   |
| Happy Hour Pricing for Weekends & Weekdays | |   | |
| Single-Use PINs to replace tokens | | |   |
| Print Batches of PINs for tournament play | | | |
| Unlimited account categories | | |   |
| Restricted accounts active days | | | |