Solo Driving Range Software
Next Product
Previous Product
Description
Solo Driving Range Software Highlights
Instant Cash
RFID  technology
Track and cancel lost or stolen cards (Solo Plus)
Club accounts for yearly range memberships
3 bucket sizes from cards and cash
Daily statistical and revenue reports
+ Big Time Profits in Real Time
Keep golfers coming back to your driving range with discounted Range Plans and Membership Programs.
---
Solo Software
Solo is a contactless payment solution that increases driving range sales and controls. Easy to view reports give the range owner a grasp on trends, while Employee Sales and Revalue Reports keep employees organized and accountable.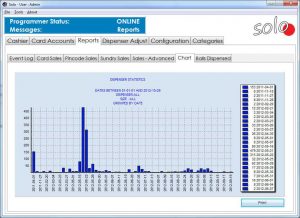 ---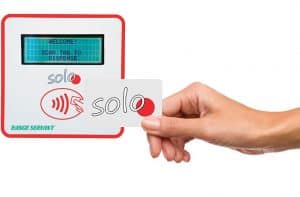 Solo Plus
Offers 3 unique bucket sizes to your customer. Can limit members to 2 or 3 buckets per day. Solo Plus is compatible with bill acceptors or credit card readers. With Solo Plus you have the added functionality of running dispenser data reports.
---
Contactless Solo Cards
Solo Tags are RFID contactless cards. The Solo Tags are encrypted with a unique license and locked to your dispenser only!
Simply hold card up to the reader
No magstripes to wear out and replace
Components are sealed against weather
Wireless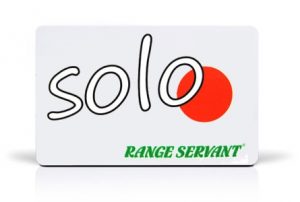 ---
Benefits of Solo
Easy to use
Simple Set up
Load buckets onto card instead of cash
3 buckets sizes of any ball count with Ultima Golf Ball Dispensers
3 independent bucket sizes with Greenline Golf Ball Dispensers
Benefits of Solo Plus
Cancel lost or stolen cards
Download dispenser data
Set happy hour pricing
Load cash value on card
3 independent bucket sizes from a bill acceptor
| Solo Feature Chart | Version | Version |
| --- | --- | --- |
| | Solo | Solo PLUS |
| Payment Systems | Credits | Cash |
| Selection Sizes | One Size | S, M, L |
| Solo Tags reusable |   |   |
| Administration Software |   |   |
| Membership Management |   |   |
| Block and Replace Lost Cards |   |   |
| View and Print Event Log & Sales Data |   |   |
| 3 Different Discount Levels |   |   |
| Export Event Data to Spreadsheets |   |   |
| Multi-user Admin Interface |   | |
| Up to 8 Dispensers on Same System |   |   |
| Admin Software can be installed on any number of PCs |   |   |
| Free Software Upgrades |   | |
| Available in many languages |   |   |
| Retro fit in ANY ball dispenser |   |   |
| Cards are specific to your facility |   |   |
| Expiry Date for Member Account | |   |
| Limit Cards by Number of Buckets per Day | |   |
| Download Dispenser Data | |   |
| Bill Acceptor Compatible | |   |
| Credit Card Acceptor Compatible | |   |
| Happy Hour Pricing for Weekends & Weekdays | |   |